IssueControl - Asset Management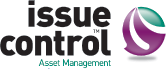 Asset Management - accountability and control for the free issue assets
Organisations issue a whole range of assets from hand tools to company vehicles to their employees.
Keeping track of these items is important but too often there is a lack of available and visible information on both the location of assets and the calibration and status of the assets.
IssueControl takes a new approach to the problems of Asset Managemant and embeds it into a wider context of Demand Management and Compliance Control to provide a comprehensive solution...
Asset Management - Case Study
Client
Vital Power
Solution
Asset Management from the IssueControl Product Set
The Result
Improved control of Free Issue Assets, accountability and significant bottom line benefits.

IssueControl plugs a Vital gap in asset management!

With a client list that includes industry leading companies, its own extensive network of offices and a large workforce, Vital Power spotted a potential weakness in its operations. It could not track what assets or equipment were being issued to its staff or how often. That is when IssueControl was invited to plug the gap.
The result - significant bottom-line benefits
Vital Power is an independent electrical engineering management and construction company, providing a range of services to the power engineering, transmission and distribution market, throughout the UK and overseas.